Does Colt Revolver with Broken Grip Found Buried on Siesta Key Link to Pistol Whipping Murder of Mayor Harry Higel. Mr Higel was beat to death on Friday Jan 7, 1921, his battered body found in the road at about 8:30 am, (corner of Mangrove and Higel Ave) just a short distance from his house. Mr. Higel suffered multiple depressed fractures all over his head as per Dr Halton's report. "The mark of the weapon was clearly shown with a hole in the skull made by the pointed end of the weapon". Mr Higel's injuries, that led to his death, could have been caused from a pistol whipping, the butt of the gun has a pointed end.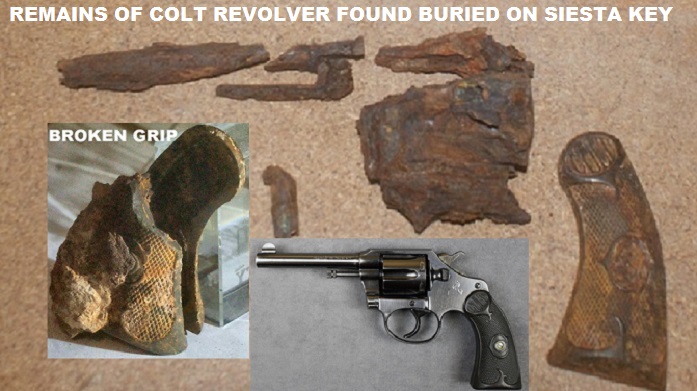 COLT REVOLVER BURIED ON SIESTA KEY: I am not the person (my client) who found the old, rusted, and corroded parts of an antique small frame Colt pocket revolver (over 100 years old) on Siesta Key buried near a salt water canal off of Higel Ave sometime in the 1920's. The firearm is a COLT POCKET POLICE POSITIVE .32 CALIBER REVOLVER with FANCY hard rubber grips and one grip that just happened to be broken. This particular firearm was manufactured from 1907 to 1927 by Colt, it was a concealable small pocket revolver, very popular in it's day.
As per the Tampa times article above, Mr Higel was found "in the middle of the beach road, not Beach Rd as so many articles refer to. The old Colt revolver that was buried on Siesta Key was loaded with 6 bullets, it had a broken grip indicating that it had been used to hit something or someone. No one buries a loaded gun unless it was used in a crime. The old Colt revolver found buried on Siesta Key dates to the time period when Harry Higel was murdered in 1921. The Harry Higel murder weapon was never found, an old rusted pipe found near his body was ruled out as no blood was found on the pipe. The remains of the old loaded Colt Revolver were passed onto the Sarasota County Sheriff Dept and a cold case detective has been assigned to the case.



Bill Warner Private Investigator Sarasota 941-926-1926 - Cheaters and Child Custody Cases at http://www.billwarnerpi.com/